Difference between ISO 17100 and ISO 9001
This is the third of the ISO Series. (To view the first part, click here: To view the second part, click here:] The first part introduced what ISO 17100 and how it came about.  The second part talked about how different ISO 17100 is from EN 15038, its predecessor.
You may have found that some translation service providers do possess an ISO certification. You may wonder – by being ISO certified, is the company you engage good enough? Think again! There are many ISO certifications around, and not all of them are relevant to the translation industry.
In this article, we will explain the differences between two ISOs, namely ISO 9001 and ISO 17100.
Below is a table that summarizes these two certifications: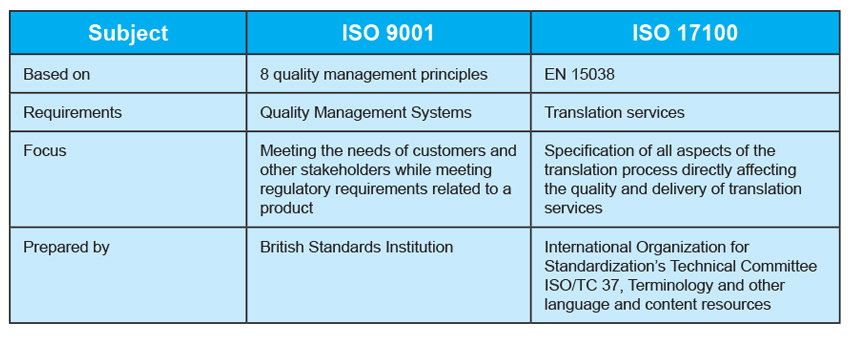 ISO 9001
If you look closely, you will find that this certification always complements EN15038. Why is that so? We will answer this in the next section, but first, it is important to understand just what ISO 9001 is about, and how different it is from ISO 17100.
Firstly, this ISO certification was developed for the manufacturing industry in Great Britain as BS5750. It was renamed as ISO 9001 in 1987 and set up as an international standard. ISO 9001 was updated in 2000 to focus less on mere conformance to processes and more on business management, adding emphasis on customers, involvement and continuous improvement.  This standard is updated once more in 2008 to make it more relevant to service industries.
ISO 9001, however, certifies that well documented processes are present. The focus in this certificate is on having a Quality Management System.
There are also 8 primary requirements of the ISO 9001 certification which require strict operation standards, namely:
Customer Focus
Leadership
Involvement of People
Process Approach
System Approach to Management
Continual Improvement
Factual Approach to Decision Making
Mutually Beneficial Supplier Relationship
EN 15038 was released as an attempt for translation service providers committed to quality management
In Europe, many translation service providers have deemed it necessary to come up with a reliable method to demonstrate the quality of services provided to their customers. In order to show their commitment to quality management systems, many companies attempt to obtain the ISO 9001 certification.
Because ISO 9001 does not address specific processes relating to translation which are important in determining quality outcomes, this standard did not become widely accepted as a 'guarantee of quality' in the industry.
Hence, the European Committee for Standardization (CEN) published EN 15038, a quality standard specifically written for the translation industry in 2006. This was a serious attempt to provide certification for translation-specific quality management.
To answer the question posed in the previous section (why are EN 15038 and ISO 9001 complementary?), both of these standards require compliance with common procedures.
However, EN 15038 monitors the processes especially developed for the overall execution of the translation. It also certifies the translation service. ISO 9001 certifies the process management which EN 15038 doesn't. Because the two standards certify different aspects, translation service providers often apply for both.
Irrelevance to translation quality/Criticisms
You can see that ISO9001's requirements have no relation to any specifics of translation, so beware if translation service providers are telling you that they can guarantee the quality of the translation because they are ISO certified based on this certification. Are they aware of what their certification means? ISO 9001 only certifies that the translation service provider follows the processes of quality management. Many companies sought this certificate to show that they are committed to quality management systems, which is a misconception due to the irrelevance of the standard for the translation industry.
ISO 17100: A new standard for the translation industry
Superseding EN 15038, ISO 17100 has minor differences from the former as mentioned in the second article of our ISO series. With this new standard, it is more specific in its requirements for all aspects of the translation process that can have a direct effect on the quality and delivery of the translation services.
The standard itself governs the workflow processes for translation including professional project management processes and the use of only professional, qualified and competent translators for any assignment. External audits are done on a yearly basis having all requirements of the standard checked by an independent auditor with a renewal of the certification in every 3 years to ensure the application of the standard is always current and maintained.
The next time you engage a company for translation services, you should enquire if they have the ISO 17100 certification. This globally recognized standard will help you in your assessment of the quality of a translation service provider.
Have you chosen the right vendor for your linguistic needs?
Lingua Technologies International was most recently audited in September 2016 and we are the first local company to be certified as ISO 17100 compliant. Our quality standards were previously based on the older EN 15038 (a European standard) which formed the basis for our framework. With over more than 2 decades of experience in the translation industry, we have now fine-tuned our framework to match the latest standards outlined in ISO 17100.