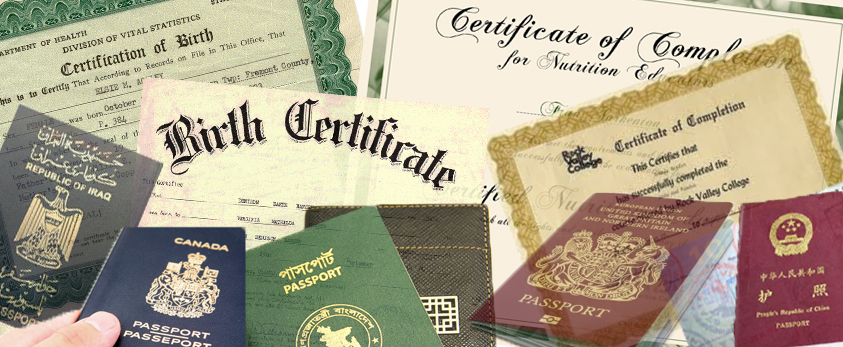 It is not every day that we find ourselves in need of translation services. However, should the need arise, we will usually be at a lost!
"What should I do? Who should I go to? Can I trust that company? Is the translation accepted? Will it be expensive? How long will it take to get it translated?"
Documents in another language other than English that are required for submission to government agencies for the application of work permits and passes, citizenship, permanent residency and other immigration related matters (MOM or ICA) may require a certified translation of the documents to be submitted together.
For years, one of your options was to go directly to the Supreme Court to get it translated. However come January 2015, the Supreme Court will cease to provide translation services for private translation requests.
So what are the other options available?
First of all, you need to know what is required.
The first question to ask is whether a certified translation is required.
Few people know what a certified translation means. It actually refers to a Certificate of Accuracy given by the reputable body/company.
If there is no necessity for your translation to be certified, you can approach any trustworthy freelancers to do the job for you. The advantage of going to freelancers is that they are much cheaper in terms of prices. However, you have to verify the works of the freelancers before entrusting your translations to them.
If a certified translation is required, you will not be able to approach freelancers as they are unable to issue any certificate of accuracy. In this case, you should go to a reputable translation company that offers certified translation.
The next question to ask is which company to choose?
Below are some pointers you might consider:
Can the translation company provide a Certificate of Translation?
What is the cost of the translation with Certification?
What is the turnaround time?
Have the company's past translations been accepted by government agencies?
It is really important to make sure that the company's translation has been accepted. It is a hassle to have the translation rejected after going through all the trouble to get it translated. It is a waste of both time and money. This delay is really unnecessary and will cause much stress especially if the document is needed urgently.
When comparing prices and turnaround time between companies you will realize that some might be cheaper and faster than the rest. The difference might be due to the translation process. For example, at Lingua Technologies International, our processes include TEP.
TEP refers to translating, editing and proofreading. Each step is done by a different linguist. Such a rigorous QA procedure helps to ensure the accuracy and quality of the translation. This will also increase the trustworthiness and the acceptance of our certified translation by these government agencies.
Unless otherwise specified by the officer-in-charge, a certified translation by our company will more than suffice.
In some unusual cases, there may be a need to have the certified translation made official by a lawyer. In such case, the translation can be made official by a Commission for Oath, if it is for use locally, or Notarised by a Notary Public, if it is for use overseas.
The requirements may vary according to the locale of use of the translation, so do check with the respective government agencies or the embassies.
In both cases above, we can recommend legal partners we work with to help facilitate the official certification and notarization of your translated document.
So when you need Certified Translations…..who do you call??
Lingua Technologies International, of course!!
Written by XL,
Senior Project Manager, Project Team
Lingua Technologies International