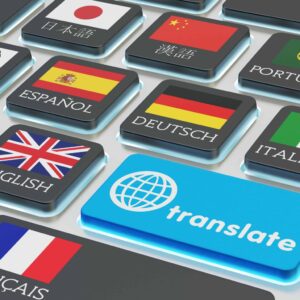 We recently announced that Lingua Technologies International has become the first Singapore translation company to receive an ISO 17100 Quality Standard certification. We are all very excited about what this means for us as a company, and most of all, what it means for you, our clients.
What is the ISO 17100?
As we have mentioned before, the ISO 17100 of 2015 sets the standard for the process affecting the quality and delivery of translations, and it is recognised on an international level.
The International Organisation for Standardization (ISO) introduced the ISO 17100 in 2015. It was designed to replace the previous translation standard, which was the European EN 15038. While these two standards are very similar, there are a few differences.
The new standard provides a complete overview of all aspects of the translation process to ensure quality work. More rigid requirements for each level of the translation process places a far greater focus on customer satisfaction for professional language translation services.
Here is what the new standard sets forth, in brief:
Minimum criteria met on qualifications and professional competencies of resources such as translators, bilingual revisers, monolingual reviewers and project managers;
More detailed assessment of the minimum requirements for translations, which are to be reviewed by a second party;
More focus on the competencies of the project managers in handling pre-, during, & post-production processes;
Gives guidelines for how to deal with feedback.
How You Benefit?
The ISO 17100 is highly beneficial to you, our clients, because it ensures we are upholding the high standards of excellence that are required of professional translation service providers. This involves being able to manage the process of handling project-related information and the requirements for its security and confidentiality.
Steps include:
Translation: Qualified/experienced translators checking their own work.
Revision: A third party revision is an obligatory part of the process. Revisers examine the translation output for any errors and other issues, and its suitability for purpose. This includes comparing source and target versions.
Feedback: As an added measure compared with EN 15038, the standard also requires having a process in place for handling client feedback for assessment of their satisfaction and any appropriate corrective action.
Attaining the ISO 17100 allows us to work confidently with industries that communicate in highly technical language. There is no room for error, and the new standards provide proof that we at Lingua Technologies have what it takes to provide you with excellent translation services you can rely on.
For more information about our translation services, contact us today. You can also look at our other services, such as our desktop publishing services.